In SugarWOD, we often refer to "box", "gym" and "affiliate" interchangeably. Users can be members of multiple gym locations, as well as subscribe to Individual programming from trusted programming providers (e.g. CompTrain, CLB Nation, Tia Clair, etc.)
Currently, users who are athletes or have coaches access at multiple physical gym locations or communities can log in to each one as needed by following the instructions below.
To join or change your Primary Gym, follow these steps:
Note: If you have an Android device, please see Option 2
Option 1 (For iOS Users Only)
1. Log in to the SugarWOD mobile app and visit the Whiteboard page in your navigation bar
2. Tap the Gym Menu button in the top left corner of the Whiteboard page and your gym options will slide out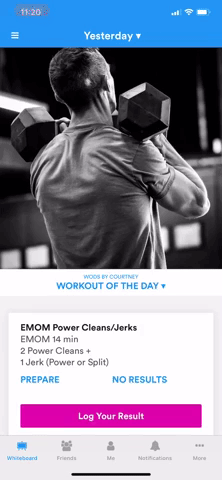 3. Tap the Change your primary gym... button and continue with Step 2 below.
Option 2 (For Android and iOS Users)
1. Log in to the SugarWOD mobile app and visit the More page in your navigation bar and tap the Your Primary Gym button

2. Tap the Change my Primary Gym button
3. Choose the Join my Box button to search for your gym, or select the Independent Athlete option if you are not currently a member of a gym using SugarWOD.
4. After selecting a box, you will be automatically logged out of SugarWOD. Just log back in to complete the box change.